Ad-Tech Coating Solutions - Industrial Coating & Finishing Services
ISO 9001 Certified Powder Coating Company
Our Commitment to Continuous Improvement.
Ad-Tech Coating Solutions is committed to exceeding customer expectations by continually improving efforts in delivery and support of all liquid and powder coating services while meeting all applicable statutory and regulatory requirements.
Ad-Tech Coating Solutions is ISO 9001 Certified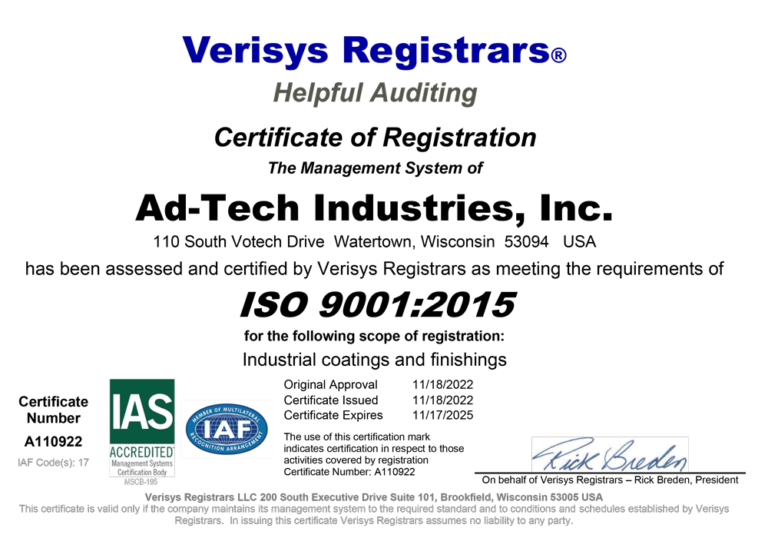 What are the benefits of ISO 9001 Certification?
By using ISO 9001, our business can benefit from consistently providing customers with high quality products and services. The process of continual improvement ensures our business becomes more efficient, reduces errors and maintains a high standard of service to our customers.
ISO (International Organization for Standardization) is an independent, non-governmental, international organization that develops standards to ensure the quality, safety, and efficiency of products, services, and systems. 
Ad-Tech has adopted this standard which is based on a number of quality management principles including a strong customer focus, the motivation and implication of top management, the process approach and continual improvement. Using ISO 9001 helps ensure that customers get consistent, good-quality products and services.
ISO 9001:2008 is now ISO 9001:2015
What the ISO 9001 Certification Means for Our Processes.
Our staff will be confident and well prepared to:
• Understand and interpret the standard.
• Monitor the effectiveness of your ISO 9001 QMS.
• Conduct audits that are both efficient and value-added.
• Apply the "Plan, Do, Check, Act" methodology.
• Present findings and defend compliance to the standard and much more.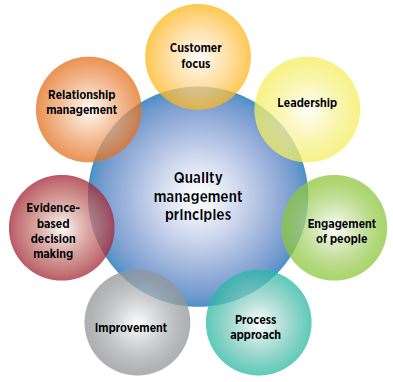 WHAT IS ISO 9001 – QUALITY MANAGEMENT SYSTEMS?
Quality Management System
ISO 9001 is defined as the international standard that specifies requirements for a quality management system (QMS). Organizations use the standard to demonstrate the ability to consistently provide products and services that meet customer and regulatory requirements. It is the most popular standard in the ISO 9000 series and the only standard in the series to which organizations can certify.
ISO 9001 was first published in 1987 by the International Organization for Standardization (ISO), an international agency composed of the national standards bodies of more than 160 countries. The current version of ISO 9001 was released in September 2015.

Additional Certifications and Specifications
Ad-Tech coats for Tier I suppliers and has been certified by CAT as well as by Harley Davidson and Wacker. These companies have some of the most stringent requirements in the industry.