Ad-Tech Industries - Industrial Coating & Finishing Services
Powder coating is a durable, environmentally friendly finishing process that can transform your ferrous and non-ferrous metals. At Ad-Tech Coating Solutions, we're experts in the powder coating process.
Curious about powder coating? Read on to learn more about the process, then schedule a related service with our team.
What Is Powder Coating?
Powder coating is a finishing process used to color metals. Compared to regular paint, powder coating is long-lasting and less likely to fade or crack. In fact, many powder coatings can last up to 20 years!
When done professionally with Ad-Tech Coating Solutions, there are a few steps our team follows to complete high-quality powder coating:
STEP ONE: Preparation
The first, and arguably the most important, step is to prepare your metals. Before applying a powder coat, you'll want to make sure to clean and treat the surface, so it is free of any dirt and debris. This preparation process ensures the paint will adhere to the part's surface and the powder coating will properly bond to it. Failure to properly prepare your part can negatively affect the overall quality of the final product.
At Ad-Tech Coating Solutions, we have a multi-step pretreatment process to ensure the metals are clean and prepared for powder coating. The steps in this process will depend on the part sizes, so every area is covered.
STEP TWO: Application
Once the parts are clean and prepared for powder coating, we'll move onto the application process. There are two main methods of applying powder coating materials:
Electrostatic spray deposition (ESD)—This is done using an electrostatic paint sprayer to apply an electrostatic charge to the powder particles and ground it to the metal.
Fluidized bed powder coating—This is done by dipping the pre-heated parts into a fluidized bed that holds the powder material.
Although both methods are effective, ESD is most commonly used during the powder coating process.
STEP THREE: Curing
Finally, the parts will enter a curing oven, where the powder particles are cured into a protective skin. The curing process results in the formation of this protective skin and promotes coating adhesion, creating a smooth surface.
Heating ESD powder coating parts can take a little over 10 minutes. When parts are fluidized, however, the heating process will occur when they are dipped into the powder material. This last step is essential to the finishing process, as it will provide a polished look that you will enjoy for years to come.
Powder Coating at Ad-Tech Coating Solutions
Ad-Tech Coating Solutions is home to over 4,300 feet of conveyor across four lines in our powder coating facility. Our state-of-the-art facility makes it possible for us to finish parts that are up to 13 feet long, so you can trust in our experts no matter the part.
Our team also works hard to meet your needs by painting and color matching to your specifications. Our materials include:
Epoxy
Epoxy polyester hybrid
Polyurethane
TGIC polyester
High-temp silicone coatings
If you have questions about powder coating, feel free to reach out to our team! We'll meet with you and come up with a plan to tackle your project.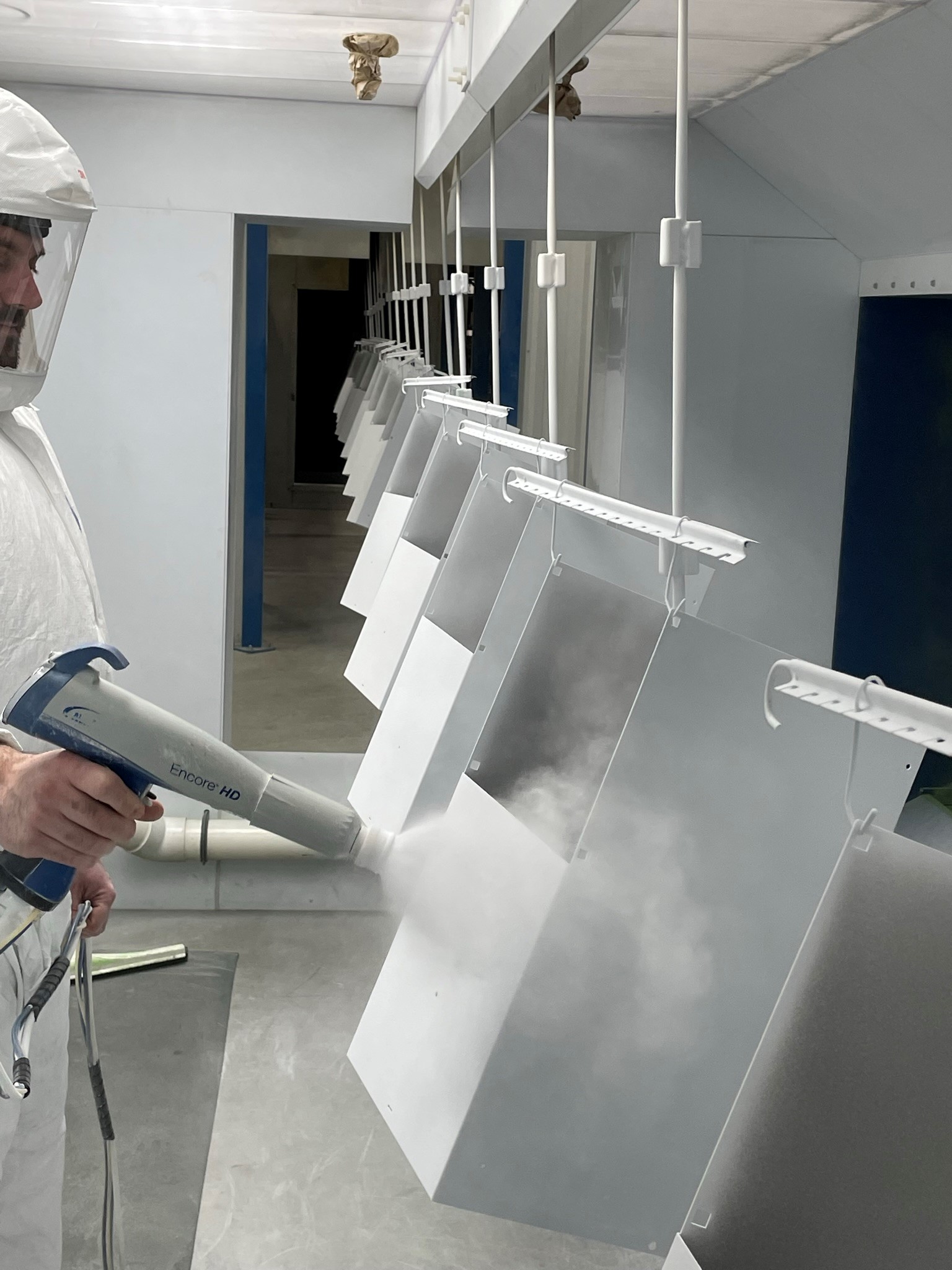 Schedule Powder Coating Services Today
As an industrial coating company with nearly 50 years in the business, Ad-Tech Coating Solutions is proud to serve the Watertown, WI, area. Contact us today to schedule your powder coating service.